One text and five lyrics about time
Author Annette Peacock
Photographs Laura Arlotti
Translation by Ofelia Bartolucci
L'arboreto Edizioni
Mondaino, dicembre 2007
One text and five lyrics about time
Production Manager Fabio: Biondi
Project Coordination: Simonetta Piscaglia, Paolo Brancalion
Copy Editor: Sabrina Raggini
Graphics and Layout: Lucrezia Gismondi
Thanks to Mauro Stocco for the cooperation
Pages: 48 in four-colour-printing, 12 colour pictures
Language: Italian with consecutive English translation
Binding: paperback
Size: 16 x 16 x 0,7 cm
Cover price: 7,00 €
ISBN: 978-88-902681-4-4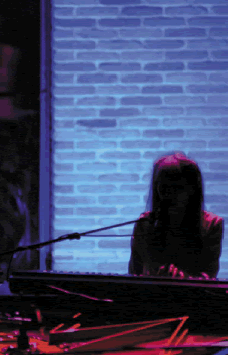 I was asked to write about time.
This was difficult for me,
because I'm naturally
oblivious to its effect within and without.
I prefer to wallow in the pleasure
of a precisely present realness,
where time has no presence,
and defy acknowledgement
of its influence.
I'd rather be surprised by
time, than be a slave to it.
Annette Peacock
"I'd rather be surprised by time, than be a slave to it."
An intimate and poetical reflection on lived time, written and sung by one of the most versatile artists of our times.
One text and five lyrics about time is the first publication by Annette Peacok in her extraordinary forty-year-long career. Like a delicate leaf driven by an "American" wind, Annette Peacock has arrived at the Arboreto. From Woodstock to Mondaino; from her primary residence, tucked in the woods, to the Teatro Dimora, finding ease in the familiar surroundings that remind her of her origins, and in order to realize a musical and literary stay. Her time here was spent in rehearsals and recording of a live concert cd, as well as work on this poetical reflection about time. A totally personal approach: here, as in her music too, she rejects dimensions and schemes. In her words there is the search of an experience of time that is totally free, where she can dig in and expand this dimension. "The time – as Neiwiller writes in Non ho tempo e serve tempo (I have no time and time is needed) – that belongs to you, the time in which you find your own time, the time you don't belong to, an opposing time that is your time as well…".
Writing about Annette Peacock is no easy task. Her art defies definition and her biography marks a number of milestones of the musical and cultural history of our time, in a tactful and absolutely personal way. Aside from a few admirable exceptions, reviewers are not very helpful, being split between the hasty consumerism of so-called critics and the excessive and frustrating scholarly zeal of militants. As a matter of fact, as is well known by her worldwide fans, Peacock requires patience and attention; she cannot be framed in a system, her art being eternally in motion. Her scant discography is the result of over thirty-five years of recordings, long periods of silence and very few low-profile concerts and yet testifies to her compositional skills and performing solutions that have always managed to connect with the present while wrong-footing it. Sometimes it's her impressive voice that reshapes the meaning of a normal song, sometimes this task is performed by the introduction of an electronic passage, almost elemental, rejecting technological perfection. The effect is otherwise achieved by the pianism, comprised of extended notes, or by a gentle percussion which is never redundant. This may struck as something somewhat surprising today. Nevertheless, Annette Peacock's music needs to be repeatedly listened to and meditated upon for its delightful and never trivial simplicity to be fully savored. The contemporary habit of hastily listening to music rules out any possibility to seize its exquisite and unscathed relevance to the current scene. In the face of the totally different musical outcomes, Peacock's art intimately shares this feature with Albert Ayler's music and his uncontested ability to intertwine the present and the past, turning them into a pivotal element of the future. This book is the final stage of a work done by the culture council of the Emilia-Romagna Region in collaboration with many other stakeholders. This is the project whereby Annette Peacock stayed and performed in this region. Her stay at the Arboreto – Teatro Dimora in Mondaino, which is this book's publisher, and the concerts held in the towns of Ferrara, Vignola, Mondaino, Parma and Lugo, resulting from the valuable commitment made by Ravenna Jazz Network, have enabled us to investigate the music of a major artist, locally supported by Roberto Dani on the percussion and Eric Morabito on electronic drum. This event triggered a project of cultural policy, which encompassed the whole region and focused on the analysis and in-depth study of contemporary artistic expression.
Alberto Ronchi
Annette Peacock is a composer, singer and pianist, as well as an extraordinary experimentalist and poet, besides being a legendary character in the avant-garde music. Her radical expressive code and her conception of the free form song embodies a synthesis of her most diverse frequentations and collaborations including Timothy Leary, Charlie Mingus, Allen Ginsberg, John Cage, Jean Tinguely, Albert Ayler, LeRoi Jones, Michael Snow, Robert Moog, Salvador Dalí, David Bowie, Brian Eno, Robert Wyatt. During her monumental career spanning over more than thirty years, she has produced, among others, Revenge, the bigger the love the greater the hate (1971, Polydor), I'm the one (1972, Rca), X-dreams (1978, Aura), The perfect release (1979, Aura), Sky-skating (1982, Ironicrecords), Been in the streets too long (1983, Ironicrecords), I have no feelings (1986, Ironicrecords), Abstract-contact (1988, Ironicrecords), An acrobat's heart (2000, Ecm), 31:31 (2006, Ironicrecords US). In June 2007, on the occasion of her creative stay at the Arboreto – Teatro Dimora in Mondaino, she recorded 4 Emilia-Romagna w/lv (Jazz Music), her latest tour's summing-up album. One text and five lyrics about time, is the first book she authored in her forty-year-long career.
---
Richiedi informazioni
« Sermon to the young of my species – Sermone ai cuccioli della mia specie Di un onesto sentire »